Romantic Style - Charming Decoration
Romantic decoration unites the concepts of sensitivity, delicacy, and comfort. It's the best way to achieve a feeling of comfort, a fundamental principle of this style.
Want to create a pleasant atmosphere and a romantic environment in your home? To do this, it's best to use a romantic style. This style has a lot of charm and passion.
When talking about the concepts of love and feelings, we don't need to just apply them to personal relationships. Instead, you can actually use these ideas for interior decoration. Basically, this theme opens up a wide range of possibilities.
Why not make your home a place where each element offers a feeling of calm and restfulness? Firstly, keep in mind the idea of romanticism. These ideas should be intrinsic in the furniture, the colors, and the whole environment.
Feelings reflected in decorations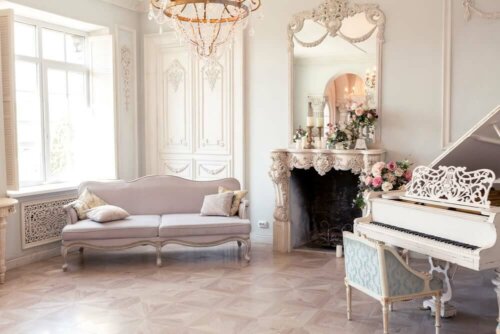 The romantic style is made up of a series of characteristics that create a pleasant aesthetic principle. This style can expose your feelings through different decorative elements. You can use these elements in all rooms in your home from the bedrooms to the living room.
However, we shouldn't pigeonhole this style just to the female domain. Romantic style is actually linked to both sexes. As a result, you can use this style in both family homes and single homes. In other words, there is no specific typecasting for this style.
Although it sounds subjective, the feelings, emotions, and charm should be reflected in the home. From the time you enter the door and into the deepest parts of the home, you can create a feeling of romanticism and sophistication.
Create passion through your decoration.
5 tips to decorate your living room in the romantic style
Your main goal for creating a romantic style is to search for tenderness and sensuality. To do this you need to find the middle ground. In fact, you can use both concepts, but unite them in a consolidated way. Let's look at some tips:
Firstly, you need to analyze your space. Then, start furnishing it with elements like sofas and armchairs. You can use different types of furniture, but above all, you should make sure they are comfortable and have lots of cushions.
It's also essential to maintain color harmony. In other words, you should keep a really consistent relationship between all your decorative elements. For this reason, you should consider using subdued, pastel colors, such as pink, purple, other, orange, or gray.
Ideally, you should use subtle colors and distribute them throughout the room. For example, the carpet can be one shade and the walls can mirror it in a more muted shade. Then, you can use slightly brighter sofa cushions.
Lighting is important to make all the colors shine in all their splendor. Large windows are great for allowing natural light to flood the room. In fact, this is the best way to enhance the interior. On the other hand, you can play with lamps of different shapes, as well as ceiling lights and floor lamps.
In terms of other decorative resources, plants are crucial. Plants offer freshness. They also add beautiful, natural green to the room. In addition, roses can be a great way to establish a connection between nature and the room.
Creating a romantic style bedroom
Firstly, you need to start with the focal point of the bedroom – the bed. You can use all kinds of decorative resources from the quilt, the cushions, and the sheets. For example, pink, white, and orange combine together well. Some textiles, such as some from Laura Ashley, are perfectly suited to this style.
On the other hand, curtains play an important role. The print can portray a romantic style. However, you can opt to just use plain shades. In addition, you can consider using plant motifs to generate a calm, natural look.
As for the furniture, such as tables, wardrobes, and shelves, you should choose items that have a calm, neutral hue. Consider white or gray. These elements perfectly complement the rest of the bedroom and create harmony.
The entryway, an ideal place
In order to convert your entryway into a charming space, you need to work on the ideas of color and comfort. Although it's a room that you don't spend much time, it's your first chance to impress any visitors.
Simplicity should be a key component. However, the combination of pastel colors should be, again, designed to create a romantic style. For example, consider using a light salmon color.
It might interest you...
---
All cited sources were thoroughly reviewed by our team to ensure their quality, reliability, currency, and validity. The bibliography of this article was considered reliable and of academic or scientific accuracy.
---
Lava Oliva, Rocío: Interiorismo, Vértice, 2008.
---