Fill Your Home with Roses
We're all about roses. They tell us that Spring is coming and we don't want to just keep them outside in our gardens!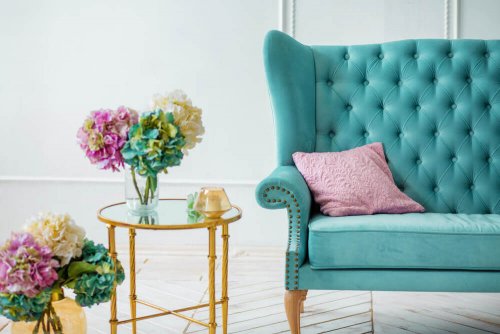 Rose season is wrapping up but we don't want to say goodbye to them just yet. We still have a couple of weeks left to enjoy roses in their most natural state as nature's stunning natural compositions.
Roses are a symbol of happiness, love, and friendship. They make our days better thanks to their beautiful presence and wonderful fragrance.
Again, we don't have to limit them to a mere season of the entire year. So, we've decided to bring them into our homes in different ways. Here are some ideas to decorate your home with roses.
Roses as they are
You can use fresh-cut roses or their petals just as they are. Use them in little sachets to fill drawers or bowls for a relaxing bath.
You can also fill glass jars or bottles with petals or even roses before they wither. Try matching them with the colors of your home decor.
If you have red roses, remember to add an accessory of the same color, such as a little pillow, nearby. A matching accessory will help balance the decor.
Placing roses in an unusual container can make for a wonderfully original table centerpiece. For example, big seashells can hold a small bouquet of roses perfectly and work as a centerpiece.
Reuse elements such as old metallic watering cans, antique glass bottles or even china tureens. They'll all enhance the romantic feel that fresh roses create in your home.
You can create very sophisticated decor by filling glass bowls with water and setting flowers along with tealight candles on top to float.
Textiles
Rose patterns are some of the most exquisite decor elements imaginable in interior decor. But you also need to know a couple of tricks for using them properly.
Every rose pattern has its own personality that depends primarily on the size of the roses, botanic detail and colors.
Even though they're complicated pieces for home decor, we love rose patterns. But once you understand certain guidelines, you'll find rose patterns easy to work with and very rewarding.
The size of the flowers and the item that the textile covers will have the strongest influence on what kind of ambiance the pattern creates. For example, big roses that cover something small, such as a box, will have a refreshing effect. On the other hand, a pattern with small flowers that covers a big pillow will create a very sweet vintage and romantic setting.
Couches work well for floral prints. But remember, roses add plenty of character to any piece of furniture. So try to avoid other details like ruffles, unless you want to create a bold shabby chic look.
If you can't find what it takes to use a rose print on your couch, don't worry. Rugs are always another item that can cover your floor with gorgeous roses all year long.
Or, you can add decorative pillows with a similar rose pattern to a plain couch. You'll nail a refined decor that's also bold and original.
Roses on your walls
These days, you can find stick-on murals that'll enable you to add a 'rosy' touch to any room. They look gorgeous and realistic– so much so that you can almost smell their sweet fragrance.
These romantic designs are a hot trend in the world of interior decor. Stick-on murals are a great way to bring a rose garden into your living room or bedroom.
You just have to tie it together with the rest of the decor with accessories and success will be yours.
It might interest you...