Different Curtain Prints For Your Home
Curtain prints can be a great way to introduce different themes and motifs into your home, allowing you to enrich your decor and fill your spaces with color and energy.
It's the little details that bring your interiors to life. These accent pieces attract attention and help give rooms a unique and original touch. So today, we want to take a look at some of the different curtain prints you can incorporate into your home.
When it comes to furnishing your windows, there are so many different options to choose from. While some designs have a more sophisticated feel to them, others are simpler and more understated. However, your main goal is to choose curtains that filter the light and help to separate your home from the outside world.
Instead of thinking of curtains as purely functional items with no decorative purpose, you can look for designs with interesting prints that help make your home stand out from the crowd. This is a great way to enrich your spaces.
Curtain prints for your living room
So, what themes work best for living room curtains? If you've been thinking about this for a while, you've probably already decided that solid colors are the safest bet. If you take a look around your house, you'll probably find that you tend to choose simple, plain prints so that they won't clash.
However, tropical prints are gaining more and more prominence in homes. They're a great way to create the perfect summer vibes and, in turn, give your home a more exotic feel. At the same time, you can also use these prints to add a splash of color to your space.
Floral and plant motifs are another of the most popular options for living rooms. They help create a peaceful, charming, and pleasant environment, introducing a dynamic and natural element that promotes joy, relaxation, and energy.
It's time to bring a more distinguished touch to your home. 
Kitchen curtains
When it comes to curtains, you can't forget about the kitchen. This is one of the best places to incorporate patterns that have a direct connection with the space itself, setting your kitchen decor apart from the rest of the rooms in the house.
1. Needless to say, food is one of the most common themes when it comes to kitchen curtains. These include things such as confectionery (cakes, cookies, desserts), fruit (cherries, apples, watermelons, bananas, pears…) or specific foods and ingredients (vegetables, coffee, bread, pasta, ice cream…).
2. Utensils and other kitchen equipment are also common. This could be anything, from cutlery (forks, knives, spoons…) to pots, plates, pans, bowls, and cups. These all coincide with the idea of cooking and baking.
3. Just like living rooms, plant and floral patterns are a popular option for kitchens, giving them a charming and natural feel. These patterns tend to be printed on a white background, which can visually purify the environment, and help the pattern stand out.
4. Geometric patterns, straight lines, and squares are also common, although you can also find shapes such as rhombuses, pentagons, and hexagons…
5. Finally, there's one last option we'd like to highlight: you could also combine a mixture of different motifs. If you wanted, you could incorporate all of the themes we've mentioned so far, bringing them together to create subtle and dynamic fabrics for your kitchen curtains.
Curtain prints for your bedroom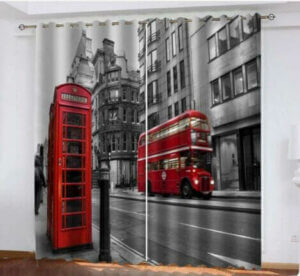 Bedrooms are one of the best spaces to try out unique and unusual curtain prints. Here, you have the freedom to choose the themes and motifs you like best. However, you'll still need to take the rest of your decor into account.
One example might be prints featuring famous quotes from historical figures, newspaper clippings, or even motivational or humorous phrases that capture the interest of any guests or visitors that come to the house.
Alternatively, you could also look for fabrics featuring optical illusions, animal prints, famous cities, artwork, or well-known photographs. Ultimately, your bedroom curtains are a great away to bring something different to your space.
These prints are a symbol of modernity and sophistication.
Bathroom curtains
When it comes to bathrooms, the most obvious option is to choose patterns and motifs related to all things hygiene: soap, water, sponges, as well as things like rubber ducks and bubbles. Needless to say, this makes a direct allusion to the space itself. It can also be a good way to inspire your little ones and help make bath time more fun
However, you can also use your bathroom curtains to incorporate other motifs. Neutral themes are a good option. While they might not have a direct connection to the space itself, they can work perfectly with your bathroom decor. These could be phrases, symbols, fruit and veg, geometric shapes, characters, or figures.
It might interest you...
---
All cited sources were thoroughly reviewed by our team to ensure their quality, reliability, currency, and validity. The bibliography of this article was considered reliable and of academic or scientific accuracy.
---
---