Mid-Century Lamps: Lighting With Style
Mid-century lamps come in many styles. Some are suitable for your living room or dining room, and some are more suited for your bedroom. In any case, they're so beautiful and elegant.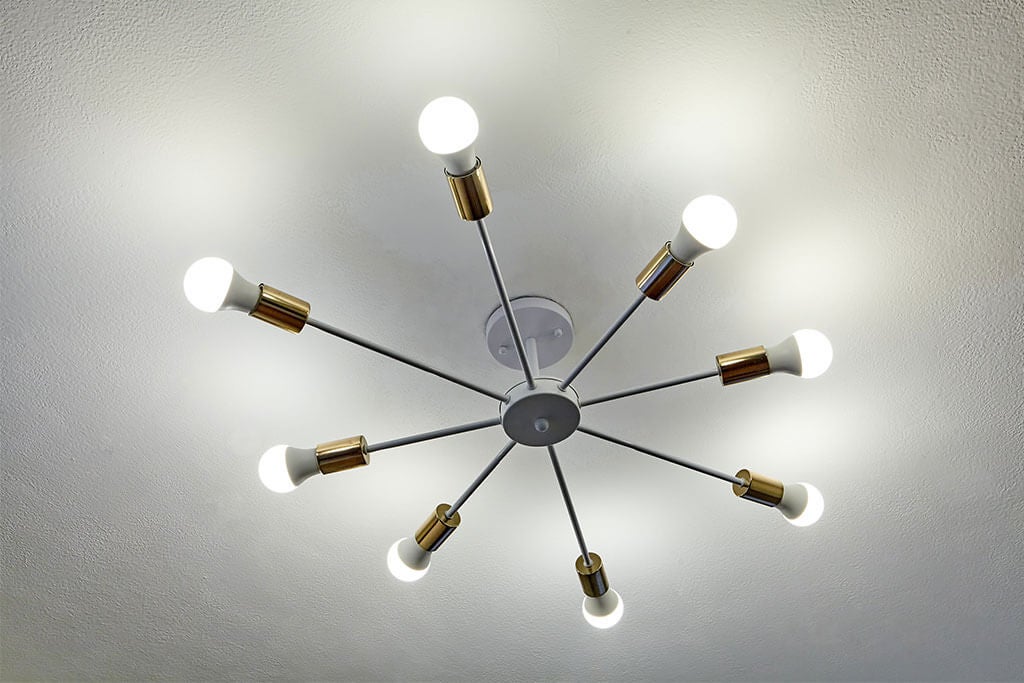 Before we start talking about lamps, let's remember a little about what the mid-century style is. This decorative style began in the mid-twentieth century in Europe, in which technological, functional, and affordable designs stand out. Since the publication of the book, Mid-Century Modern: Furniture of the 1950s by the author Cara Greenberg, it's taken on much more meaning.
Homes decorated under the parameters of this style tend to stand out with elegance and glamor. Simple objects, geometric patterns, and materials such as wood, bronze, and metal predominate. As well as the striking colors combined with this current and raging trend.
Generally, the mid-century suggests the use of wood in all decorative objects, except for lamps. For these, materials such as metal and bronze are often used. Precisely, in this article, we'll delve into the characteristics of lamps in this style.
Mid-century ceiling lamps
It's likely that, even without knowing it, you've seen a great variety of mid-century lamps in many places. This, because they're the most used in spaces such as the living room and dining room, where they're the main focus. They contribute in decorative terms and help you illuminate your spaces perfectly. We'll now explain the most common types.
Lamps in the shape of stars
This type of ceiling lamp in the mid-century style stands out for being large. In addition, they have a large number of metallic arms, which simulate a star. They're usually golden in color and it's at each point where we'll find the light bulbs. When looking at them from below it's possible to appreciate a beautiful light show.
Because they're large, they provide a lot of lighting to the place where they're located. Although the gold finish is common, there are other colors too, so you'll be able to find an ideal one for your home.
Level lamps
Level lamps are those that have a straight horizontal base where the bulbs rest or where the light shines from. This style makes the light shine from the same place and directs it to a specific space in your room. This is what the concept of leveling refers to.
Uneven lamps
Lamps with unevenness represent the opposite concept to that of level lamps. This design plays with the height of the light bulbs, keeping the same direction. Usually, the light looks like a shower of light, giving a similar appearance to a waterfall.
When the lamps don't keep the same direction, this provides a retro look.
Symmetrical lamps
Symmetrical lamps are the perfect choice for people who like everything perfectly aligned. They usually have a ball or tulip type bulb. It's common for them to have six or more bulbs facing in the same direction, at the same distance, and the same size.
If we put a mirror in the middle of the lamp, we'll observe the same figure from any side. The symmetry is actually perfect.
Mid-century table and floor lamps
If you don't have the space or you don't like ceiling lamps, you can consider other options. Among them, you have a mid-century table lamp or a floor lamp, which you can put on a bedside table, a coffee table, or in the corner of your living room.
In this section, we'll also find the globe lamps, perfect to place on your desk or work table. Apart from giving your spaces a touch of elegance, they provide all the light you need to carry out work or creative activities.
Mid-century wall lamps
These types of lamps are a little more discreet and are attached to the wall, at the level of a table or your bed. Their arms are usually metallic and come in gold and silver finishes. You can find them in different styles, like the ones we saw before.
What do you think about the mid-century lamps and lighting style?
Mid-century lamps are beautiful, unique and keep that incredible mix between vintage and modern. You have a number of options and styles with which to decorate each of your social, work, and personal spaces. If you want something simple, but elegant, the mid-century style is for you!
It might interest you...